Last night I decided to try and make this yummy treat I saw at a holiday party a couple of months ago. Let me tell you, these little candies are the YUMMIEST, most HEAVENLY things ever. They are (dare I say it?) the PERFECT mix of salty and sweet. And they take all of 10 minutes to make! Even better!
What You Will Need:
* 1 bag of Hershey's Hugs (just chocolate – none of that almond or caramel stuff) Note: There are about 90 Hugs in a bag, so if you want to make more than 90, buy TWO bags!
* 1 bag of M&Ms (again, just chocolate filled. No crunchy or peanut or anything else).
* 1 bag of Pretzel Snaps (you know the small squarish, window-looking pretzels)
What To Do:
Pre heat your oven to 250 degrees.
Then cover a cookie sheet with tinfoil.
Lay out the pretzels in neat rows (I think I fit about 60 on one cookie sheet, and another 30 on a second).
In the center of each pretzel, place one Hershey's Hug.
Put the cookie sheet exactly as is in the oven. Leave in for about 5 minutes or until the chocolate is warm and melty (it should still be in the Hug shape so you may have to lightly touch to see if it is melted through).
Once the chocolate is all melty, carefully take cookie sheets out of the oven and place on a (heat protected) level surface.
Now place a M&M in the center of each Hug. You will probably want to LIGHTLY push down on the M&M so that when the chocolate hardens, the M&M looks a little sunk in.
Once each Hug is topped by a M&M, leave to cool (I left mine over night).
When all done, you should have a whole plate full of these beauties: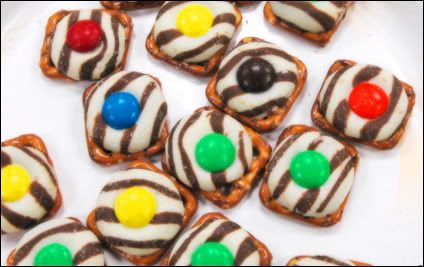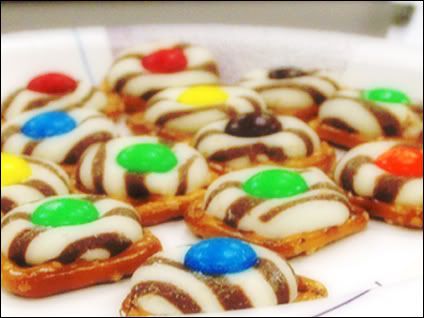 YUM. Enjoy! I know I've enjoyed about 15 of 'em and it's now only 10:00 a.m. …